Allama Iqbal Open University (AIOU)
Allama Iqbal Open University, a historic and international people's open university for 49 years, was established on 21 May 1974. As a matter of fact, it is among the most renowned universities in Pakistan, and it has an extensive number of campuses nationwide with remarkably 1 Million students Globally and offers at the very least 100 different courses in a variety of programs. Its degree is worthwhile to seek a job and to get admission anywhere in the World. 
In Pakistan, Allama Iqbal Open University's principal seat is in Islamabad. While regional campuses are spread countrywide, some of the major city campuses are in Lahore, Multan, Karachi, Faisalabad, Bahawalpur, DG Khan, and 38 more different cities. Their regional campuses are developed to maintain proper guidance and examination for Matric, Post Matric(Inter), Graduation, Post Graduation (Master), and Higher Educational Levels i.e. MPHIL and PHD. 
Allama Iqbal University is also known for its excellent quality teaching framework in distance learning education. It offers so many programs for national and international students. It trains a large number of students in the field of creative arts, teaching, skillful online expertise, and professionalism in various fields. Due to its high prestige, different universities throughout the world also offer scholarships to its students.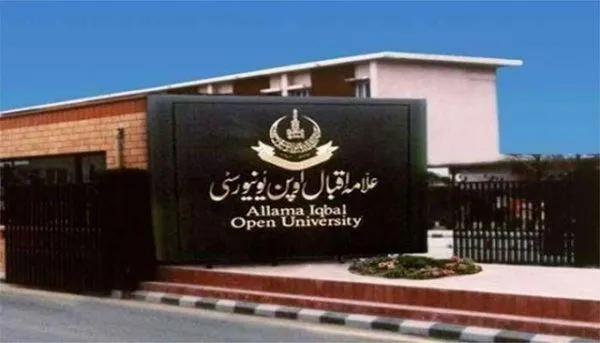 Allama Iqbal Open University Admission
Usually, Allama Iqbal Open University Online Admission has two seasons; Spring (January – March) and Autumn (July – September). Students can apply twice a year in maximum programs, while few programs are offered only once a year. So, those who are willing to apply, keep themself updated in the mentioned time period. Due to a lot of programs or courses, the ratio of students is much higher than in other famous institutes of Pakistan. 
In addition, admitted students are able to avail many opportunities because professionals can study with a job, while rural area students study by sitting at home, get admission at low merit, and improve their knowledge by communicating with experienced teachers. Some of the major offerings Allama Iqbal Open University Programs for admission are:
PhD Programmes
MPhil / MS Programmes
Master Programmes
Bachelor Programmes
B.Ed Programmes
Higher Secondary School Certificate
Post Graduate Diploma
STEP / Certificate Courses
Secondary School Certificate
Courses
Allama Iqbal Open University courses are several in diversified fields. One of the major privileges is online distance education, and also online classes. One could also attend class in a remote area, without coming to the University. Some of the major courses are the following:
FA and equivalent degree courses in various subjects 
Graduation in 2 years AD (Associate Degree) in various subjects
BS, B.Ed 2, 3.5, 4-year courses in various subjects 
Master of Arts in many subjects
Master of Science 2-year or MPHIL in various subjects specialization
Research courses or Philosophy of Doctorate in specific subjects
Allama Iqbal Open University Login
After getting enrolled in the University, the first thing that students want is to open their personal Login. Login is necessary for every student, because without it they can't check their personal details, and they are also unable to attend their online classes. In the Open University, there is no doubt that an online platform is most important to complete the degree. Hence, to watch previous workshop lectures, upload assignments, and check grades and all updates, Account Login is fundamental. 
The login ID or Registration Number is also assigned by the University. There is a proper management system designed, to facilitate fresh and continuing students. One could have any problem, or concern with a regional focal person, or contact class fellows in WhatsApp groups. Sometimes, teachers and seniors also help in solving the issue. 
Allama Iqbal Open University Tutors
Allama Iqbal University has an excellent teaching environment, students easily contact the Tutors and get assistance with coursework. Most of the tutors are researchers and guides in accordance with international education. Furthermore, some of the tutors are hired only for checking assignments. These assignment tutors are also well-educated and have an experience of more than 5 years of government teaching in particular subjects. 
Additionally, private teachers are also helpful for the University. Highly qualified teachers from private universities and other departments also teach the students and share their personal experiences with them. Because experience is the crux of the matter during sharing knowledge. Hence, Tutors having diverse fields of knowledge are beneficial for scholars. 
Allama Iqbal Open University Result
The University is in the top 1000 Universities in ranking, having more than 2 Million alumni across the world. Moreover, more than 100 thousand new graduates join AIOU every year. Due to a lot of graduates, the university has an updated pattern of conducting exams and checking exams. Exams are conducted twice a year in the exam centers which are the government schools and colleges.
Results are announced after 2-3 months of exams, due to a lot of students' papers. In addition, applicants enjoy the pattern of results, because it is more convenient for the graduates to look into results on the Enrollment platform. Each year thousands of students pass out, apply for several jobs, and get executive jobs in government and private sectors. 
Allama Iqbal Open University Jobs
The first priority of the passing out graduates is to find a good job. Some of them enjoy doing jobs in the public sector. The University also announces many other executive-level jobs for experienced members. Hence, opportunities are opened for both; graduates and professionals. Some of the recent jobs which the university are announced are at the seats of the following checklist: 
| | |
| --- | --- |
| Controller of Examination | ✅ |
| Deputy Regional Director | ✅ |
| Assistant Regional Director | ✅ |
| Deputy Assistant Director IT | ✅ |
| Assistant Engineer | ✅ |
| Director Regional Services | ✅ |
| Senior IT Worker | ✅ |
| Computer Assistant | ✅ |
| IT Helper | ✅ |
| IT Worker | ✅ |
| IT Technician | ✅ |
| Drivers | ✅ |
Allama Iqbal Open University Jobs
To apply for the job you need to submit your application. The required qualification is always mentioned in the advertisement that is published by the University. There is always a processing fee of challan that should be submitted with the application. Moreover, age restriction and in a few cases experience also matter while applying. If the applicants for the advertised job are fewer, then a direct interview is called by the management. But, in most cases MCQ's test and written test are compulsory. 
Allama Iqbal Open University Address
Its main head office is located in Islamabad, beside 9th Avenue, Srinagar Highway. In case you have difficulty to trace it, then it is also beside Islamabad Model Postgraduate College. Moreover, the addresses of regional offices in major cities are at different places. The official address for posting is the following:
Directorate of Students Advisory & Counselling Services, Gateway Block, Ground Floor, Sector H-8
Postal/Zip code: 44000
Email
An official email is beneficial for students who come across some difficulty in workshops, assignments, cms portal, student profile, roll number and registration number, attendance, reappearance in results, and much more. You can now easily take assistance from their official email address: 
Contact Number
Whensoever you are unable to receive any email from support, directly contact the support person on the provided contact number, which is the following:
📞 +92-51-111112468
Helpline Number
For any kind of help and information feel free to contact the helpline number of the University at office time.
📞 +92-51-9250027
📞 +92-51-9057109
Last, but not least, it is noted that Allama Iqbal Open University is the cheapest online university due to its cost-effective policy. In addition, it also provides the best quality and enduring education. The University is funded by the Government through specialized funds, so people from their homes have easy access to education at a minimum cost. 
There is any Allama Iqbal Open University Degree Value?
After analyzing the above factors; teachers' professional experience, an internationally recognized university, a bundle of new opportunities for students, HEC recognized university, diversified courses in different programs, and many job opportunities show that a degree from AIOU is worthwhile. Hence, it is recommended that we take admission and explore a wide range of subjects of our own choice.