AIOU Tutor Search by Roll No 2023-2024
Students who need to submit their written work are associated with the AIOU Tutor Search by Roll No. It is mandatory to know how to AIOU Tutor Search, because only your teacher can give you marks. In this post we'll let you know how to search AIOU Tutor by Roll Number 2023 for Spring and Autumn Semester.
AIOU, a well known institution in Pakistan, has trust in the hired tutors. These tutors perform well in checking the AIOU Assignments and take online workshops for the students. They have expertise in their own subjects, and mark students' submitted assignments. Now AIOU Tutor 2023 search by Roll Number and Name is essential for the scholars. 
AIOU Tutor Search by Name and Roll No
In AIOU there are countless students, striving for success, all across the globe. Teachers play the main role to achieve quality of education. The university puts constant efforts to improve the quality of virtual students, so they appointed the best possible tutors. Hence it's an opportunity for the students of AIOU to get maximum assistance to get succeeded. To get in touch with your assigned tutor search with name or roll no, you must know the procedure. 
AIOU Tutor Search by Roll No Method
To find your appointed tutor, you need to follow this simple procedure. This is going to be one of the easiest ways to detect AIOU Tutor with Roll Number. Let's divide the method into a few steps, which are following:
First of all write AIOU Enrollment in the Search Bar
Or Just directly click on the above Link
Write your Roll Number or Registration Number
Write you password send by the university
Dashboard will be opened in front of you
Simply click on the My Tutors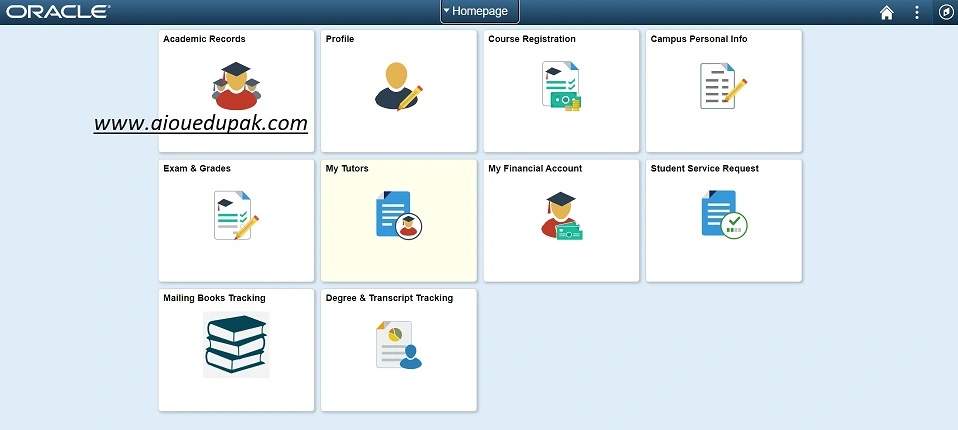 Check Tutor AIOU All Courses
All of the tutors, according to the university, can be checked on the official website of the university. Students of all the courses i.e. Matric, Inter, graduate, Postgraduate and so on can find their homework checking tutors easily by following the above mentioned Methodology. All information regarding their teachers available on that single webpage. 
Check AIOU Tutor Confirmation
Confirmation of the specific tutor for each student is checked on the Dashboard of each student. It is advised to the students to always confirm your instructor before sending your assignment. Confirmation is only required during the semester. While, during the workshop you don't need to verify. 
My Tutor AIOU Spring/Autumn Semester
By becoming a student of AIOU, you step up your chance to get the best e-learning. For the spring and autumn semesters the university appoints different teachers. Most of the time teachers are from different districts. For example, a teacher might be from Rawalpindi for the Pindi Learners. Sometimes, it might be possible that for both the semester learners tutors are the same.
Find Tutor AIOU by Registration No
Finding an AIOU Tutor is not a big issue at all. If you know your registration numbers and passwords then it's a matter of a minute. Just Click on the Tutor Page in your browser. Then follow the given instruction. When you click on it an option "Button" will come. Click on that Button and Print all the details. Paste it on the First page of your assignment and parcel to that person. 
If you are facing trouble in AIOU Tutor Search by Roll Number then send an email to the official focal person of the university in the email mentioned below.