AIOU Assignments Download in Pdf
Do you want to write your AIOU Assignments by yourself? Or do you want to find a solved assignment? In both cases, this article is for you. Many AIOU students carry the burden of work and are unable to complete assignments on time. Assignments become exhausting and frustrating, so we are here to assist you to solve them speedily. 
Many students of AIOU in Pakistan feel that writing AIOU Assignments in hard form is quite easy than writing in MS Word. Because writing on a laptop is somehow difficult for new scholars. Anyhow, each of them has pros and cons. It is advised by the tutors to write your own assignments, which would improve your research level and creative writing skills. Moreover, in this way, plagiarism issues would also be mitigated. 
Allama Iqbal Open University Assignments
AIOU has an organized structure related to assignments. These assignments are mandatory every semester. Some courses have 4 assignments, while most have 2 assignments in a semester. It is observed that during writing the assignments of various courses, students conduct independent research on the given 5 questions, and then write it in their own words. In this way, students come up with their own insights about different topics. These questions are also important for the final examination.
AIOU Assignments Pdf
Is it necessary to upload all the assignments in pdf format? Absolutely not! Anyway, it is recommended that submit it in Pdf, because pdf format doesn't change the wording style on other's mobile or laptops. While MS Word format has different versions, and all the headings and paragraphs are displaced in different devices, according to the installed software. All the pdf assignments of AIOU are accepted only on LMS Portal. Lastly, make sure to upload it before the last date.
AIOU Assignments Form
As an enrolled student of AIOU, you will be provided with an assignment form along with the books. Recently, the university has closed the system of sending books to all the students. Therefore, you have to download your concerned form, from the website in a pdf form and take a printout of it. Write your answers on the assignment pages and attach this form at the front of your assignments.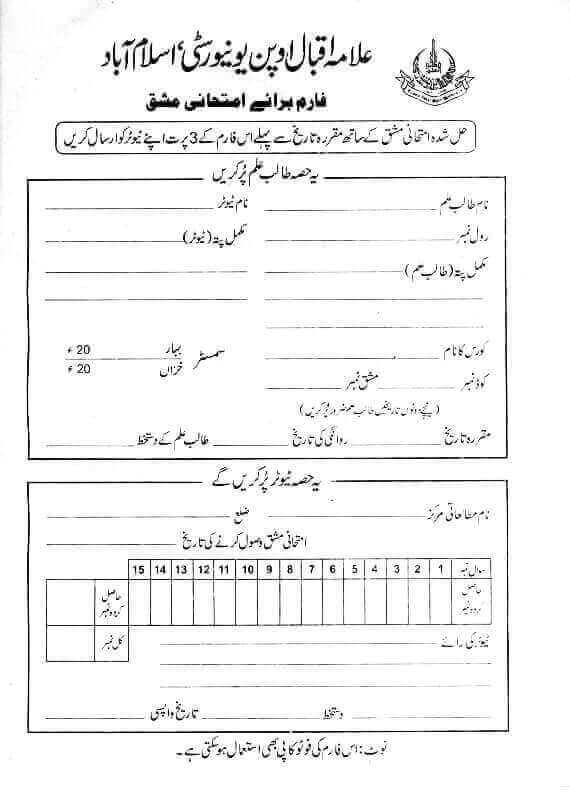 AIOU Assignment Parat
The assignment parat is in the stapled form including 3 pages of mark sheet. All the assignment details are written on it. Parat must be attached to your written assignment, so a tutor gives you marks for each question separately. Moreover, personal details and tutor information i.e. address, phone number, etc. also written on that parat. This assignment can also be sent by courier. Once the tutor receives your courier, he'll check your AIOU Assignment and give you marks according to your written answers. 
Additionally, all the 3 pages of the parat must be filled completely with great caution. While leaving the lower part, which is the tutor section where a tutor will give you marks. 
AIOU Assignment LMS
All the assignments that are written in pdf should be uploaded online on the LMS Portal. In the start, you might don't have an account to log in to your LMS. After a month or two, the university will send you all the login credentials. Open your account by using these credentials and upload your course assignments. If you don't know how to upload your assignment then visit you can learn it in a few minutes. 
AIOU Assignments Matric
Matric assignments are available in pdf format on this website. Meanwhile, you can download questions about all the subjects on the official AIOU. Most are the compulsory codes in all the semesters and only a few are optional subjects. Solved assignments are not a good option. You must write all the work with research, so you become a good research scholar.
AIOU Assignments FA
All subjects or codes assignments of the FA program are allowed to submit in pdf format. Moreover, in some cases, handwritten assignments are also acceptable. Each semester there is a deadline for uploading it on the portal, in order for them to be active students. Anyhow, the university's main concern is the intellectual growth of the minds of the youngsters. 
AIOU Assignments BA
When a bachelor-level student is given an assignment, he or she struggles to answer all the questions in detail. They narrate all the answers in their minds. After thinking and analyzing they solve all the questions. Due to these researched-based questions, the answers of all the students vary. If they got stuck at some point, they can ultimately take assistance from the book or a tutor. All the students can download questions about their work from AIOU in the form of a pdf. 
AIOU Assignment Method
We are going to assist you with the complete method of writing AIOU Assignments. Follow these simple steps:
Download the question papers from here.
Write your 1st question on the assignment page.
Find your answer in the book, understand it, and write in your own words.
If you don't find an answer in the course book, search for it on Google. 
Solve all the answers in the same method.
Make a cover page for your assignment.
Convert it into pdf form and upload it on the portal.