AIOU Tutor Information 2023-2024
The Open University of Allama Iqbal has a large number of tutors for online workshops and assignments. AIOU Tutor Information includes postal address, mobile number, name, and assigned codes. This information is vital for every student to send their assignments, and to discuss their assignment marks.
In each semester there are 4-6 subjects. Each subject has a different tutor. A Tutor is assigned to many students according to their specialization. It is mandatory that students send their written work to their tutors. In case you fail to send them your work, you will get 0 marks. Hence, AIOU Tutor 2023 Information is quite contributive for the students. 
AIOU Tutor Information Online
Online information of the tutors has made searching for your relevant tutor quite easy, as you can immediately check which subject teacher you are searching for. This information also allows the scholars to get quick access to all details regarding the tutor. Basically, background is very important of the teacher i.e. address, name and cell number. Hence in this post you'll get the tutor info here. 
Tutor Information AIOU Procedure
The procedure to check your subject or code relevant tutor is uncomplicated. Previously it was checked through your roll number by entering in the Official Website search box. But, now it is advanced as only you can check your assigned tutor on your dashboard. For that case you just need your registration number and password. Please follow these steps which are mentioned below:
Login with an advance system, developed by the university which is Enrollment
To login, simply write Registration number i.e. 12ABC12345
Write Password saved in your SMS Inbox i.e. ab1234
When your dashboard open, click on "My Tutors" and Click
Click on the button All Courses on ongoing semester
Here we go! Your tutor details will be shown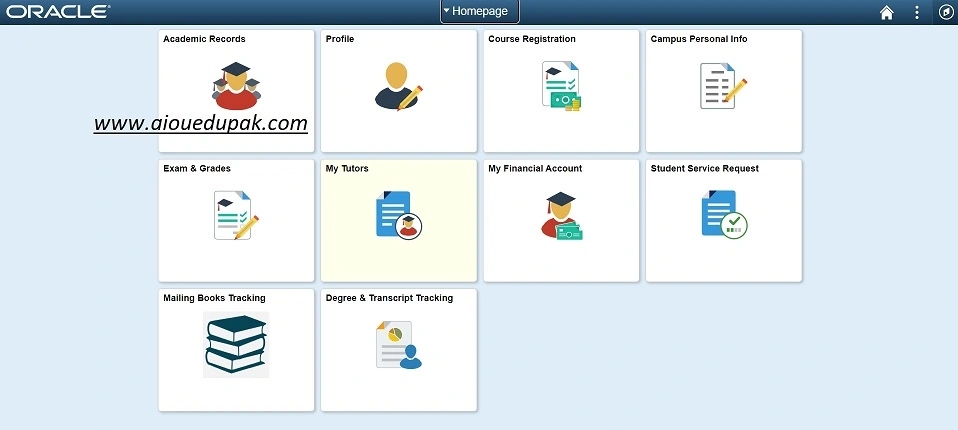 My Tutor and Academic Record
In AIOU my tutor is checked through the academic record of the student dashboard. Academic history of all the courses is viewable on the main profile, provided by the university. When you click on my tutor, you will see 2 options. First is Course History and second is View Unofficial Transcript. Click on the Course History where you can find the sequence of teachers, according to your semester courses.


Tutor Information Aiou.Edu.Pk
Successful candidates who get admission in AIOU will learn alot from their online tutors. All admitted students will be assessed by the teachers, specially on the basis of their assignments and quizzes. These online teachers take workshops as well. So, opportunity for remote students from all across the globe to foster their learning abilities, and take advantage through these expert instructors.
These AIOU online instructors focus on a continuous 6 days Workshop, and cover a code book in 6 lectures. The tutor has in-depth research, improves students' existing knowledge, and teaches them updated content regarding the course code of AIOU. Hence, the major mission of them is to provide an exceptional environment of online learning in 6 days of lectures. 
If you believe you have difficulty in your course or assignment, then it is the responsibility of the tutor to guide you properly. Check the instructor email address, or contact him/her through phone number, and discuss your matter. Keep in mind to ask your specific questions on the phone call. All your subject matter questions will be answerable briefly.
For more Information AIOU Tutor keep checking our website, as we explain each and every thing regarding this topic. In case you have any query, write in the comment section, and we'll deliver you with the best. We are here for you to answer all your questions.