AIOU Enrollment 2023 – Enrollment aiou.edu.pk Login
AIOU enrollment is a formal platform, a student facilitation service, for the enrolled students of AIOU. Enrollment provides a lot of services like academic records, my Tutors, grades & results, student profile, course registration, and much more. Enrollment homepage also gives access to find out AIOU results just in one click. So, AIOU Enrollment Homepage is one of the most important services provided by the Allama Iqbal Open University.
AIOU Enrollment is easily accessed by the students who have just got admission, and also for continuing students of previous semesters at AIOU. Fresh candidates must have Registration Number and a Password to open their homepage. When they Sign-in, then they can check all regarding information about their profile, and relevant information of their course or degree. Click on the following enrollment link i.e. enrollment.aiou.edu.pk to follow your credentials and information.
AIOU Enrollment Login
AIOU Enrollment Login is a quickest approach to look at the statistics, previous semester result cards or upcoming AIOU Results, of your given exams. AIOU student Enrollment also comes up with an opportunity for fresh students, because all the data of a student is compiled by the university on a single link. Let's discuss all the accessibilities, for the AIOU enrolled Students one by one.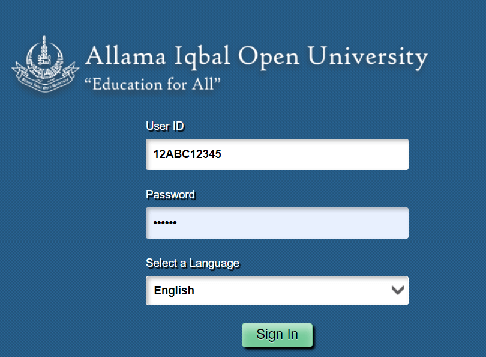 AIOU Enrollment User ID and Password
The very first step is to have your own User ID, provided by the university after admission confirmation. Password is usually sent by text SMS by the University along with registration ID. Password is in the form of a code with capital & small letters and a few numbers as well. It is advised don't share your credentials with anyone, otherwise others can open your profile.
AIOU Academic Profile
The first page that would be shown is Oracle homepage. On the Enrollment homepage you see an option or a box of Academic records, a brief overview of the records related to the student i.e. tutor details and unofficial transcript in a case if you are not a fresh student.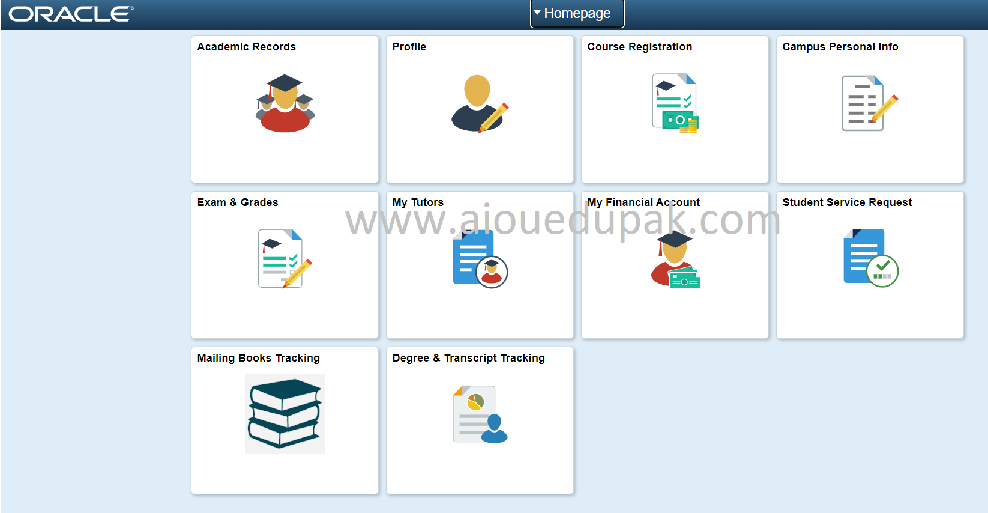 AIOU Student Profile
When you click on a profile box then you can see the following three lines on the side bar:
Personal Details
Contact Details
Addresses
Students can confirm their personal details and if they see any mistake then also update it. Contact details can also be updated i.e. email is optional where you get notification emails. Address is the permanent or temporary living place where you can get your AIOU parcels.
AIOU Course Registration
Course registration is the most fundamental issue faced by the AIOU students, because selection of new courses always takes some thought processing. Anyhow, registration of new courses for next semester of AIOU is quite easy.
Click on course registration, and a new window will be opened.
Click on a small search icon in Academic Level.
Choose a semester according to your next semester.
Click on Add a New Request.
Add the offered courses and then take a print.
Campus Personal Information
Campus personal info consists of two terminologies; Demographic Information and
Personal Information. In the first one, students can review all the information regarding demographics i.e. country, city, Citizenship Information, Ethnicity, etc. While in the later one, all personal info can be reviewed by students i.e. CNIC, Student ID, Telephone, Address, etc.
AIOU Exams and Grades
AIOU has an updated grading system, so only you can see your result. Grades are automatically updated on the AIOU Enrollment CMS when the result is announced by the University. AIOU Exam Schedule, result and grades (Final papers and Assignments) can be reviewed in a sequence in the AIOU Exams and Grades Section. This section is really beneficial for the students.
My Tutors of AIOU
Few years ago, assignments were checked by the tutors only when they received at their address in hard copy. Now, AIOU facilitates their students with ease and advanced approach. For now write your assignment and send it online to your tutor. If you are not getting marks then you can also get contact info in this section.
My Financial Account
My Financial Account is one of the advanced features created by the Allama Iqbal Open University in AIOU Enrollment Page. Students are facilitated by the fee concession and fee returned if they found to be deserved or eligible. Along with compensation, there are few more features in this section which are:
Account Balance
Charges Due
Payment History
Account Inquiry
Student Service Request
There are many other services which students avail by clicking a new request. In new request category you can see 4 more sections which are:
Apply for AIOU Financial Aid / Scholarship
AIOU Fee Refund
Other Fee Challan/Invoice
Correction in personal information
Mailing Books Tracking
In this section, you can follow up the AIOU books tracking. As we know, hard copies are difficult to get, the university now provides soft books of all the courses to their enrolled applicants.
Degree and Transcript Tracking
AIOU degree or transcript is the final document which university sends you at your home address after the completion of all semesters successfully. This section helps you to apply for your degree.
AIOU Enrollment number basically is your ID which is required for the sign-in to your account. Further, candidates can enroll to various subjects of different courses and codes through this page, but you just need your own account to proceed to the next level.