AIOU Date Sheet 2023 All Programs
If you are passionate to get your exam preparation on time, then knowing your AIOU Date Sheet is mandatory for you. Follow this article till the end, to know about your course's examination dates. AIOU has announced that a Date Sheet is issued for session 2023. 
Every year, the AIOU exam department is in charge of taking the exam, so they announce a day for the semester examination. As we know, there are many courses offered by the university, and their selection depends on the student's choice. Depending on your elected courses, you can check your codes and Day of Paper. We are going to share with you the AIOU Date Sheet 2023 for all the Disciplines.  
AIOU BA Date Sheet Download
An online degree of BA is one of the best facilities provided by the AIOU to students. Basically, it is an open degree to complete a graduation. It is a 2-year program, having 4 semesters. For more details and information, please see our Admission section. If you're a graduation candidate then your papers are starting soon. So, please see your dates in the tables, which we are going to provide you. 
| | |
| --- | --- |
| Programs | Schedule |
| AIOU BA Date Sheet | 25 April – 19 June |
| AIOU ADE | 25 April – 19 June |
| AIOU BBA | 25 April – 19 June |
| AIOU B.Ed. | 25 April – 19 June |
| AIOU BS | 25 April – 19 June |
Graduation is not limited to BA courses, but AD, ADE, BS, BBA & B.Ed. Programs are also included in the graduation programs, 2 and 4 years respectively. The date Sheet Of Phase II of the above-mentioned programs of Autumn 2022 & 2023 is available on this website.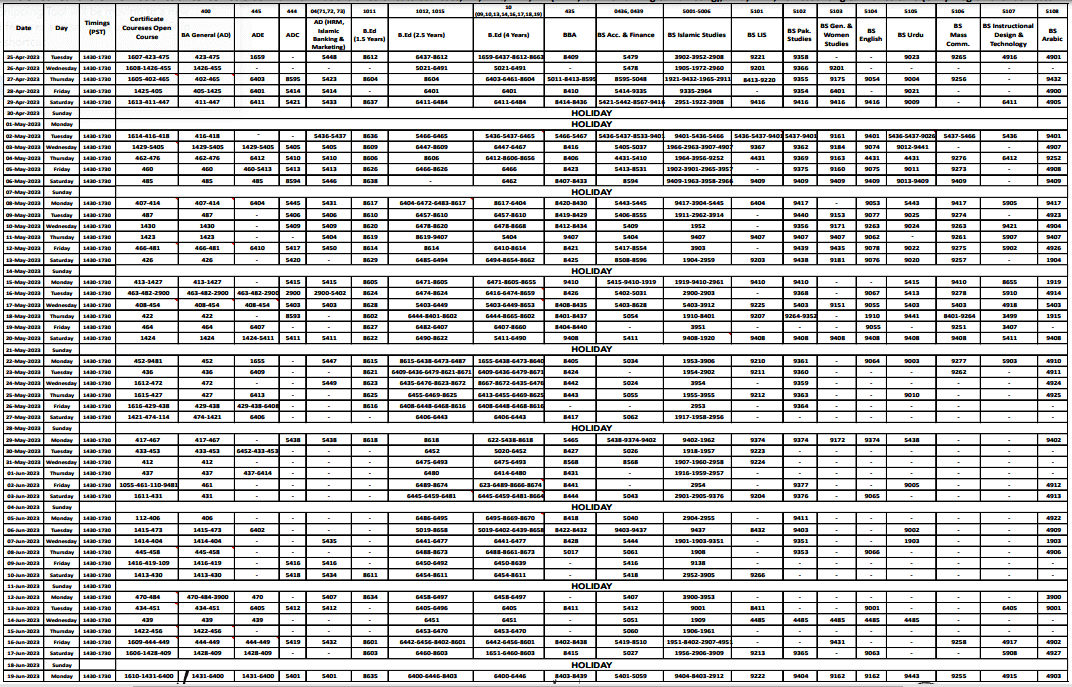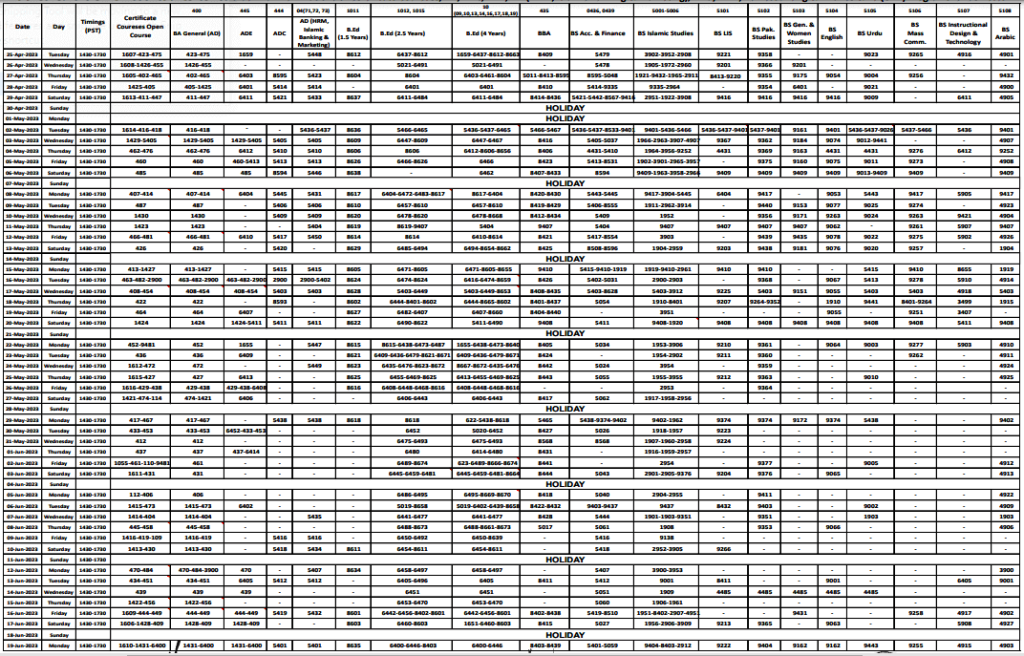 AIOU Date Sheet FA Download
Pakistan's leading open university has announced Inter programs date sheets. There are many optional subjects in the intermediate, some students select arts while few also go with science subjects. A few subjects are also compulsory at the Inter level. Subject selection should be based on the student's interest and scope. 
AIOU Inter papers are held nationwide, including all major cities of Pakistan few of them are Karachi, Lahore, Islamabad, Faisalabad, D.I. Khan, Gilgit, Hyderabad, Gujranwala, Multan, Okara, Abbottabad, Dera Ghazi Khan, Muzaffarabad, Quetta, Rawalpindi, Sargodha, Khuzdar, Larkana, Skardu, Peshawar, Bahawalpur, Sialkot, Sheikupura, and Sukkur.
AIOU Date Sheet FA is given in the Image and in the Table with all other Inter programs. For preparation, candidates can read their textbooks given by the university. Though textbooks are enough, but, for helping material you can also consult online website material or helping books. 
| | |
| --- | --- |
| Programs | Schedule |
| AIOU FA Date Sheet | 1 March – 3 April |
| AIOU ICOM | 1 March – 3 April |
| AIOU FSC | 1 March – 3 April |
AIOU Date Sheet Matric Download
In Pakistan, it is thought that 9th and 10th class students only memorize subject content or read as Ratta. But, due to AIOU, in the semester system, students have less burden, so they try to understand the subject and learn with concepts. Although there are several academies that charge high fees for Matric classes, AIOU provides these studies at a very low price. 
The success of Matric students depends on their notes and guidance. To build an academic record, excellent free workshops during the semester is a fabulous way to learn. They can create their own notes, and get guidance from the teachers. Tutors also guide how to attempt papers to get higher marks in the papers. 
Moreover, if you check your AIOU Matric Date Sheet Part 1 and Part 2, it is published. It is requested to start preparation from scratch i.e. from the first chapter. Questions that are asked in the final papers are from different chapters. Mostly the first 6-7 chapters are the most important. If you finish the first seven chapters, then you will be able to score excellent grades. 
| | |
| --- | --- |
| Programs | Schedule |
| AIOU Matric Date Sheet | 1 March- 3 April |
AIOU Date Sheet MA Download
There are many master programs and multiples of relative subject codes in the AIOU Master Date Sheet. Are you focused on the MA date sheet or any other subject, you'll find it here. Doing a master's from AIOU is perhaps the best decision of your life because it is recognized globally and chances of getting a job in Pakistan get higher. 
AIOU Date Sheet is announced twice a year, once in the autumn season and the other in spring. Autumn season exams are usually held in March-June, while spring students' batch papers are announced in October – November. According to the latest report of the university autumn batch Date Sheet is announced. To check your exam dates view the table. You can also Download it in Pdf.
| | |
| --- | --- |
| Programs | Schedule |
| AIOU MA Date Sheet | 22 May – 23 June |
| AIOU MSC | 23 May – 23 June |
| AIOU MCOM | 23 May – 23 June |
| AIOU MBA | 22 May – 16 June |
| AIOU M.Ed. | 23 May – 23 June |
| AIOU PGD | 22 May – 23 June |
AIOU Date Sheet MPHIL/PHD
Today AIOU notified that the MS/MPHIL and PHD timetable has been announced. There are many codes in the higher education studies provided by the university. Exams will start on 26 June 2023. Semester spring 2023 date sheet exams of Islamic Studies and Arabic will be at 9-12 am on the main campus of the university.  
In the PHD and MPHIL programs, students have a main focus on Research. Research credit hours are very important in this discipline. Supervisors are allotted to the respective students. Scholars do research online, prepare a thesis, and then the university conducts a research defense at the end of the degree. 
| | |
| --- | --- |
| Programs | Schedule |
| AIOU MPHIL Date Sheet | 24 June – 27 June |
| AIOU MS Date Sheet | 24 June – 27 June |
| AIOU PHD Date Sheet | 24 June – 26 June |
Download AIOU Date Sheet by Roll No
It is the right time to check your AIOU date sheet by roll number. Based on the information provided by the university, the exams are expected to occur in June. We collected data to confirm the dates, which we'll share with you. All the students are encouraged to keep an eye on the Date Sheet, so they can complete their preparation before the start of exams. 
To check the AIOU Schedule of all the programs and to download it click on the image that we've provided. So mark your calendars for the starting and last dates. Get ready yourself for summer and winter exams with full arrangements.
Furthermore, Spring semester date sheets and autumn semester date sheets of Matric, Inter, Master, MS, PHD levels are also uploaded separately. Because some students get confused with their course codes. This article is helpful for all the students because we try to cover all the date sheets in a single place. Before going to the examination hall make sure that you have the necessary information about your course.