AIOU Admission Form – Download or Fill Online
Do you decide to take Admission to AIOU? Do you need AIOU Admission Form for applying to the university? There are many kinds of forms available for download on the official website, but we are here to provide you Admission Form and all its relevant details. 
AIOU Admission Form is used to apply manually for Admission to any program of AIOU. It can be downloadable in Pdf format from here. Take a print of it, and write all your personal and degree details on that Form. After filling out the form, courier it to the admission department of AIOU in Islamabad.
AIOU Admission Form Download
AIOU aspirants have an opportunity to excel not only in Pakistan but worldwide. Because a list of impact rankings published by Times Higher Education in which AIOU ranked 25 globally for quality education. Hence, don't overthink to take admission in this university, rapidly Download AIOU Admission Form and apply as soon as possible.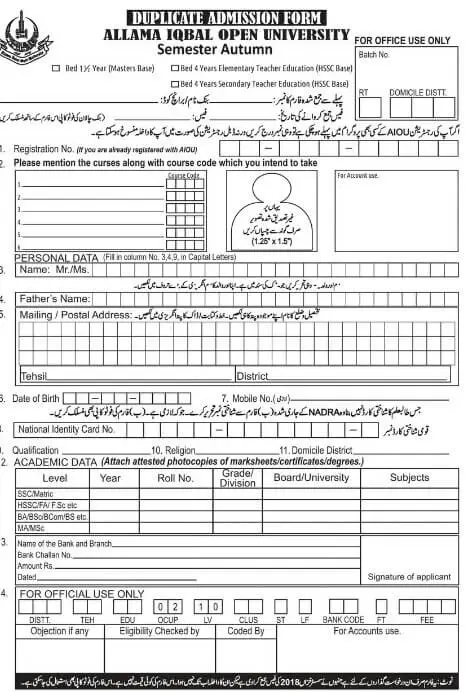 AIOU Online Admission Form
According to the university, Online Admission Form is the best way to apply for admission. It is an online method where you can easily fill out the complete form in a few minutes. This online form also decreases the efforts of the applicants and is very easy to understand. All the percentages and merit are automatically calculated by the system with this process. Moreover, you can easily check Admission Confirmation with the help of this method. 
AIOU Admission Form for Continue Students
Continue students are seniors and don't have a need to submit the Form from the beginning. They don't need to refill the personal and degree information on the form. Nevertheless, they have to fill only next semester's codes. Sometimes, in higher semesters there are some optional or elective subjects. Hence, choose the course of your interest and write on the admission form, take a print, and submit it to the specified bank. 
AIOU Admission Form 2023
The university always emphasized that the students should check the eligibility criteria before filling out the form of admission. When you are under the criteria, write step by step on the form which is open through OAS, the application methodology only for the new applicants. Moreover, students can check about the relevant program fee before applying. Normally the fee structure is lower than the other universities, so every individual is able to study at this well renown university of Pakistan. 
AIOU Continue Admission Form
The form continues to submit until the last day of admission. To pursue your study in the AIOU, you should apply before the deadline date of form submission. There are separate application forms for continuing students and newcomers. Newcomers should submit the required document data online through the CMS Portal. All your obtained marks in the previous classes, previous roll numbers, etc. are required to be put up in the online form. 
Furthermore, there are diverse kinds of Forms that are available. Don't intermix all the other forms with the Admission Form. We'll provide a sample of the exact original form that will save the applicant's time. You just need to download it in Pdf format and use it freely. Otherwise, create an account on OAS and fill it out online. Both options are for the students that can be used on the basis of the flexibility of applicants. 
How to Fill AIOU Online Application Form?
The open university candidates can buy a Form from any nearby computer shop for a few rupees. The second option, quite easier, is to fill it out online and then take a print of it. There are a few steps that you need to follow for the Online Application Form of AIOU,  which are:
Open the official website of AIOU
Click on the OAS or this Link
Enter your personal Email Adress
Provide your without-converted SIM number
Click on the button to get registered
Write the exact personal information in the boxes on the form
After completing the form take a print
Also, take a print of Challan Form
Deposit Fee along with Admission Form and Challan Form to a specific Bank
AIOU Admission Form for Matric, FA, ICOM, Associate Degree Programs, BA, BS, BBA, MA, MBA, MS, etc. for Spring/Autumn Semesters is open to apply twice a year. Hence, get in touch with our website, so you wouldn't miss any AIOU updates. Ask any question that is in your mind, we're here to provide the ultimate guidance.